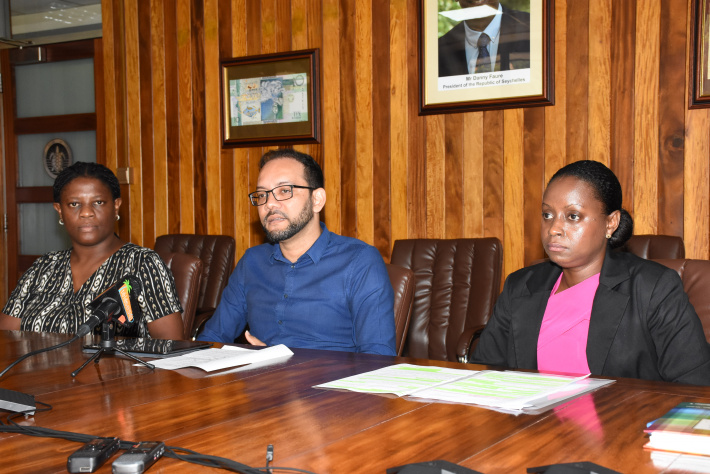 As announced in the 2020 National Budget Speech, the five-year Bond for the Property Management Corporation (PMC), which is being guaranteed by the Government of Seychelles, is to be issued on January 27, 2020.
The bond, worth R200 million with a fixed earning rate of 5 percent per annum is being issued and managed by the Central Bank of Seychelles (CBS) and is applicable to both residents and non-residents, provided they hold an account with a local commercial bank.
Providing more details on the issuance yesterday morning, principal secretary for Finance, Damien Thésée, director of Financial Markets at CBS Gina Rosette and chief executive of PMC Evelina Antha, explained that proceeds from the sale of the bond is to finance various housing and re-roofing projects under the PMC and the purchase of the Ile Perseverance condominium project from the Seychelles Pension Fund (SPF).
"This bond was decided upon to intensify some of the capital projects under the government because it takes up quite a substantial amount of the budget allocated to the ministries, so this was an innovative way to expedite some of the capital projects in the pipeline. Since last year, we reduced the sum of the minimum issuance to R1000 meaning an individual can purchase bonds in multiples of R1000, as compared to before when it was at R5000. This is also a means to encourage individuals to save. We know January, we just issued the 13th month salary and the law stipulates, the private sector have until January 31 to pay 13th month salaries, so we timed it to coincide with the 13th month and salary payment," PS Thésée explained.
As opposed to previous issuances, priority is being given to individual applicants for a specific time period, on account that individuals have shown great interest in previous issuances, for instance the 1770 bond which was launched last year, and sold out within the first day. For the first 30 days (up to February 25), applications will only be accepted from individuals who can apply singly or jointly. After the 30-day period, any unsubscribed amount will be offered to commercial banks, corporate bodies, institutions, clubs, societies and other organisations, although individuals can still apply in this instance.
Copies of the prospectus and application forms are from the Financial Markets Division (FMD) of the CBS and through their website (www.cbs.sc) although the prospectus will be published in local newspapers on January 23, 25 and 27. It is important that applicants provide all information required for the bond and sign the bond before submitting to CBS either in person, or through mail.
Applicants will be informed if their application has been successful on the same day or the next day, depending on what time they submitted their applications. Upon being informed that their application is successful, applicants must make payment for the bond within three working days either by bank transfer, crossed cheque in favour of PMC and cash, not exceeding R25,000. They will also receive a letter confirming their purchase.
With regards to repayment of the bond, PS Thésée noted that it will be repaid through the government's budget with interest payments on a half-yearly basis on May 20 and November 20.
Among the projects on PMC's priority list are different housing and renovation projects as well as the purchase of a block of condominium apartments from the Seychelles Pension Fund (SPF) to a value of R68 million.
"Firstly, the capital raised from the bond will be used to finance housing projects that are currently underway including Anse Royale, Bel Ombre, Anse Aux Pins, Roche Caiman and Pointe Larue and which are not yet completed. The second, explained by the PS, will be used to finance the sale of the recently completed condominium project at Perseverance from the SPF, comprising 24 two-bedroom units and a further 18 one-bedroom units. The 18 one-bedroom units will be rented through PMC while the 24 two-bedroom units will be sold to interested applicants," CEO Antha noted.
A further R10 million will be allocated towards the re-roofing of older semi-detached and terrace houses for which roofing tiles were used.
"There was a proposition to the government to consider and assist clients whose houses have been covered with roofing tiles and who are experiencing inconveniences such as leaking roofs. The government came up with the scheme to assist these home owners and R10 million from the bond has been allocated to assist them," she added.
A total of 754 units need such renovations, 546 of which are at Roche Caiman and others scattered across 13 districts. At least 100 houses are expected to be completed this year.
 [Source: Seychelles Nation]