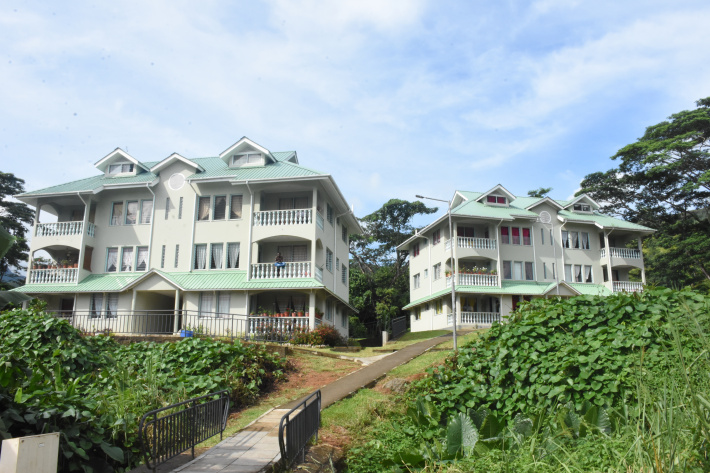 A new housing estate, Orchid Village, located at the ex-Indian Ocean nursery at Barbarons in the Grand Anse Mahé district, was officially opened on Monday afternoon, although residents have been living in their houses for a year now.
The official opening ceremony was attended by the Minister for Habitat, Land, Infrastructure and Land Transport Pamela Charlette, the Minister for Family Affairs Mitcy Larue, the director general for Abu Dhabi Fund, Mohammed Saif Al Suwaidi, the chargé d'affaires of the United Arab Emirates in Seychelles, Ahmed Alneyadi, the residents of the housing estate and invited guests.
Orchid Village is one of three projects that have been made possible through a grant given by the Abu Dhabi government and administered by the Abu Dhabi Fund for Development.
The village consists of 42 units, 20 of which have two bedrooms and 22 three bedrooms in addition to a parking lot and a sewage treatment plant.
In her opening address Minister Charlette noted that construction of the 42 units in this estate was part of a much larger project that covered two other sites, one at Bel Ombre with 24 units and another at Takamaka with 40 units.
"As we now reach the completion of the housing project in Takamaka, it is an opportune occasion for us to have this ceremony today. The 106 units at all three locations have been made possible through a grant funding of R93 million," said the minister.
She added that the success of the project was because of participation from two local partners, GIBB Seychelles Ltd and Mahé Design and Build.
"On behalf of the beneficiaries and the government of Seychelles I would like to express our appreciation to all those involved in the planning and construction of the village. Provisions for housing remains a priority for our government and we appreciate that our foreign partners acknowledge and support our efforts," remarked the minister.
She urged the residents to make a special effort in keeping the village a pleasant living environment.
On his part Mohammed Saif Al Suwaidi added that this project is yet another successful outcome of the good relations that exist between Seychelles and the UAE since 1976.
"We are proud to partner with the Republic of Seychelles in catering for the growing demand that is public housing. Abu Dhabi fund is pleased to strategically partner with Seychelles to support the development programmes and objectives," said the director general.
Yves Choppy, principal secretary for infrastructure, added that a second phase is in the works where an additional seven units will be added. He noted that they are securing finance for the second phase to start.
Many residents of the housing estate also took this opportunity to address some of their concerns to the minister regarding some issues that they are facing at the village. These include lack of space and improper drainage for rain water.
Mr Choppy noted that these concerns will be taken up.
[Source: Seychelles Nation]