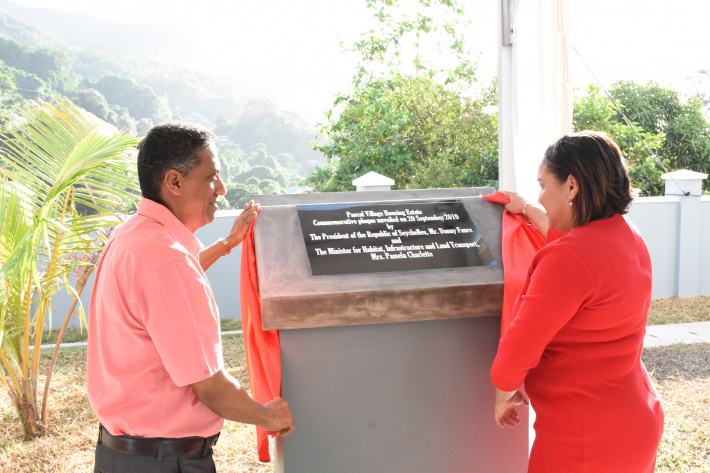 President Faure
Twenty-four families from the Beau Vallon and Bel Ombre districts have received the keys to their newly built homes during the official opening of the Pascal Village Housing Estate, yesterday.
The ceremony, attended by President Danny Faure as well as other high-level dignitaries, commenced with a brief address by the Minister for Habitat, Lands, Infrastructure and Land Transport Pamela Charlette who thanked all the residents residing or bordering the housing estate for their cooperation during the construction phase of the project and welcomed the families to their new homes.
"It is the government's aim to continually improve the houses and we have made a big effort to accomplish this objective. For instance, the units are much larger and include built-in cabinets in the kitchen," said Minister Charlette.
"I want to underline the importance of being considerate in such a community. A house is a direct investment in terms of the quality of life of a family. It is important that all tenants respect the agreements they have signed with the Property Management Corporation (PMC). Regulations are in place for a reason," Minister Charlette said, urging the families to make good use of their houses and to not engage in anti-social behaviour on the estate.
The estate comprises 16 three-bedroom houses and eight two-bedroom houses and individual units are much larger than those of other housing estates with a revamped colour scheme. Twenty families benefitted from the allocation as well as a further four families who were residing at the Socièté du Logement, a site identified by the government for redevelopment.
Following the presentation of keys to the new tenants, President Faure joined Minister Charlette to unveil the plaque for the housing estate before he was guided on a tour of the estate.
Hilda Estico, a tenant who will be occupying a two-bedroom house, was bursting with excitement as she stepped into her new home.
"I can't thank the President and government enough for giving me and my family this wonderful home. It is so spacious and well-designed and I cannot wait to move in and make it my home," Mrs Estico said.
Construction work for the Pascal Village housing estate, which forms part of the programme for 24 housing projects to be built in 24 districts, started in late December 2017. It was constructed by Fury Construction at a cost of R26.3 million.
[Source: Seychelles Nation]